RagaJazz combine Indian ragas and Scandinavian jazz. Two highly acclaimed musicians from the Indian classical music tradition join forces with three internationally experienced Scandinavian jazz musicians. Lars Møller, Danish sax player and composer, formed the band in 2016 with Thor Madsen (guitar), Jonas Johansen (drums), Abhijit Bannerjee (tabla) and Kala Ramnath (violin).
Spread around the globe, the members of RagaJazz represent a new generation of musicians with a global perspective. They share a common desire to create interaction between different musical and cultural traditions.
RagaJazz has performed at leading venues in India and Europe. The five members are also featured on Lars Møller's Glow Of Benares. The album is a tribute to the Indian musical heritage with big band and chamber orchestra. (Dacapo Records 2017).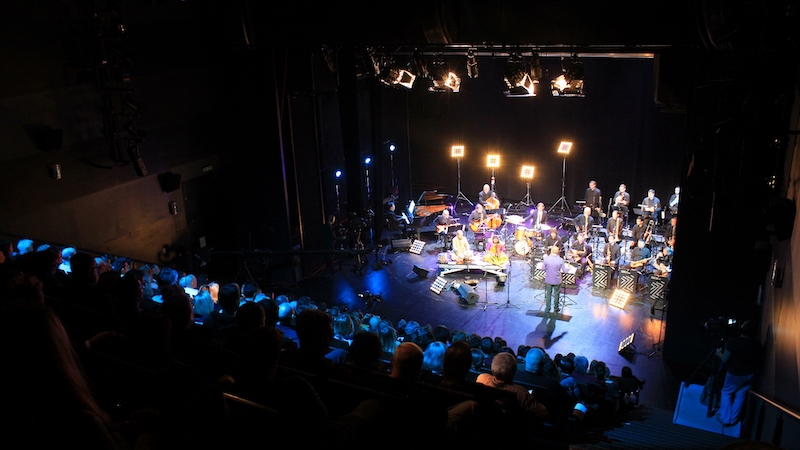 Following Glow Of Benares, RagaJazz released their debut album Purple Twilight in 2018. Like Glow Of Benares, the RagaJazz album was mixed and mastered by Thor Madsen at Mazza Mansion.
This fusion of styles is something that Ragajazz do well. The colourful glissandos of the violin and fast-paced drive of the tablas merge beautifully with saxophone and guitar, allowing the group to seamlessly blend Eastern rhythms and melodies with those of Scandinavian jazz, particularly in tracks like Glow and Purple Twilight.

Gareth Thomas for Jazz Journal, UK. Read full review.
Lars Møller / Kala Ramnath / Thor Madsen / Abhijit Bannerjee / Jonas Johansen – GJE 2018
Home / About / Thor De Force / Jazz Explorer Trio / Studio / Discography / Wazzabi / Nublu / Butch Morris / Abdullah S / Live Jive Jungle / Bast'ards / The Song Remains / Thor Madsen Group / Real Time / Artistic Research / Press / Contact